Social Networks Auto Poster (SNAP) is a WordPress plugin that will automatically share your blog content to all of the popular social media sites, like Facebook, Twitter, Google Plus (Google+), Blogger/Blogspot, Tumblr, Pinterest, and the like.
With SNAP, auto-posting your content is as simple as configuring your social media accounts, then publishing a new post.
Setting up each of your accounts will take a bit of time, but once properly configured, all future posts will be automatically shared based on the settings you have chosen.
Product

Social Networks Auto Poster Plugin

Type

WordPress Plugin

Product Author

Reviewed by

TJ Greene
on

June 04, 2013

Rating

Price
Author's Note: Until Google and Pinterest release a public API, NextScripts' Social Networks Auto Poster Pro plugin is the ONLY plugin we've found for easily auto-posting content to Google+ and Pinterest.
Social Networks Auto Poster Review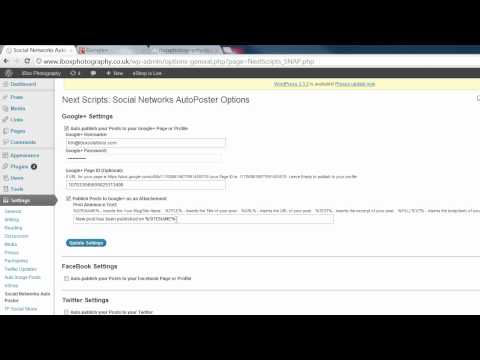 Features
SNAP comes in two flavors, free and Pro. The free version will only post to one account from each network and lacks the custom API needed to auto-post to Google+ and Pinterest.
To share your content with an unlimited number of accounts per network, including Google+ and Pinterest, schedule posting, and much more, you will need to invest in the $49.95 upgrade to the PRO version. It is a small price to pay for the time savings and all of the added benefits that come with it.
Compare Versions

SNAP Free
SNAP Pro
Blogger/Blogspot (HTML supported)
Blogger Advanced Autoposting*
Delicious
Diigo
Facebook – Autopost to your profile, business page, community page, or Facebook group page.
FriendFeed
Google+ – Autopost to your profile or business page.
Instapaper
LinkedIn – Personal pages and Groups
LinkedIn – Company pages
LiveJournal
Pinterest
Plurk
Stumbleupon
Tumblr (HTML supported)
Twitter
vBulletin – Auto-submit your blog post to vBulletin forums, create new threads or new posts.
vKontakte (VK.com)
vKontakte (VK.com) Advanced Autoposting – Ability to add link attachments.
WordPress-based sites – including WordPress.com, Blog.com, etc.
YouTube – Auto-post to your YouTube feed.
Schedule Posts
Number of accounts per network
one account only
Unlimited
Priority Support
Lifetime Upgrades
Cost
Free
$49.95
* NextScripts' Blogger API is more stable and has more features then the standard Blogger API. For example, the standard Blogger API cuts embedded videos from posts, NextScripts' Blogger API does not.
Why SNAP Is The Best Social Networks Auto Poster
We have tested a lot of social sharing products and SNAP is by far the BEST plugin for auto-posting blog content to social sites. Beyond its ease of use and the shear number of accounts it posts to, SNAP allows you to manage everything from one central location, within WordPress Admin.
Here is a short list of what sets SNAP apart from the others:
The quality of the shared posts is excellent. Each post is formatted for the specific platform it is being posted on. You can find a few samples below and links to even more here.
An abundance of post configuration options. You are able to share your content with any combination of your post's title, url, excerpt, full post, images, videos, tags, categories, author's name, blog's name, etc. You can even include hashtags.
Set and forget. Once fully configured, simply publish your posts as normal and SNAP takes care of the rest.
Supports 18 social networks, with more added all the time. (The soon to be released version 3, will include Reddit, App.net, and deviantart.com.)
Auto-post to an unlimited number of accounts per network (Pro version). Have 1, 5, 15, or 100 Twitter, Facebook, Tumblr, etc., accounts if you want. SNAP Pro will handle them all with ease.
Post to Google Plus, Pinterest, and LinkedIn Company and/or Groups pages (Pro version).
Schedule posts to publish at a future date/time (Pro version).
Supports custom post types, including the ability to include/exclude custom post types from auto-posting.
Support posts from iOS/Android Apps.
SNAP requires you to create your own "Apps" to make posts, which means all of your posts will be 100% white labeled. No "Shared via NextScripts.com" or "Posted by NextScripts" added to your posts.
Installing And Configuring SNAP
If you can install plugins on your WordPress site, and set up social accounts, then you should have no problems with configuring SNAP.
It installs the same as other plugins, nothing special there. But, it works so well, and functions the way that it does, because the developer has taken the time to ensure the plugin interacts with each of the social networks in the best possible way. Abiding by their rules and adhering to best practices when posting content, and it shows in the quality of the results.
Because of the developers attention to detail, SNAP requires a bit of effort on your part to get setup properly. Fortunately, NextScripts has done an excellent job of providing detailed step-by-step instructions that will guide you through the installation and setup of each of the social sites.
Results
Twitter
Here is an example of the results of an auto-post to Twitter. Notice the inclusion of a hashtag, a shortened URL, and a summary that includes an image and brief excerpt.
Facebook
Here is an example of the results of an auto-post to a Facebook Business Page. Notice the inclusion of the YouTube video from the post. Clicking on the video will play it within Facebook.
Google+
Here is an example of the results of an auto-post to a Google+ Business Page. Notice the custom message and inclusion of the featured image.
Conclusion
The power of social media is undeniable, with search engines looking more and more to social signals to determine a website's authority and rankings. Sharing your blog's content should be an integral part of any marketing strategy, and the Social Networks Auto Poster Plugin makes it easy to do.
The fact that SNAP is so versatile and automated; that it currently supports 18 social networks (with more being added in the next release); and that it does everything from within WordPress's familiar Admin interface, makes it a real winner. And the $49.95 upgrade to the Pro version is well worth the cost, in both time savings and convenience.
I highly recommend you give SNAP a try. If you aren't sure you need the features in the Pro version, start with the free one, you can always upgrade at any time.
What Do You Think?
What tools and/or services do you use to share your content on social media? We'd love to hear about it. Please share your experiences in the comments below, then spread the word by sharing the stuffin' out of it!
Share on Google+ Now!