Why You Should Use WordPress [VIDEO]
WordPress has something for everyone. Whether you are looking to build a part-time personal blog, a full-time online information business, or an elaborate ecommerce site, Word Press has the flexibility and features to do what you need.
WordPress started out as a simple blogging script, but has evolved into one of the top website design platforms available today. It is used by over 60 million website owners the world over.
In fact, many Fortune 500 companies, tech savvy entrepreneurs, small business owners, and even low-tech, work-from-home bloggers have web sites powered by WordPress.
It is THE most popular, and fastest growing, web publishing platform available today, and the #1 Content Management System (CMS) in the world.
Checkout the latest features in WordPress 3.6!
Why WordPress?
Simple. It is:
Powerful
User Friendly
Fast and Easy to Setup
Easy to Use
Easy to Maintain
Incredibly Flexible
Feature Rich
Excellent Social Media and SEO Features
Has a Terrific Support Community
and it's FREE!
Before WordPress, a traditional web site was painstakingly created with HTML, CSS, PHP, or other code. Creating, editing, and maintaining one of these sites was (is) A LOT of work. Never mind changing the existing look, feel, and functionality of it.
WYSIWYG editors like Adobe Dreamweaver and KompoZer help, but, unless you are a tech geek, most custom elements have to be contracted out to an expert if you want them to look professional.
WordPress changes all that.
Why You Should Use WordPress | Basic Overview Video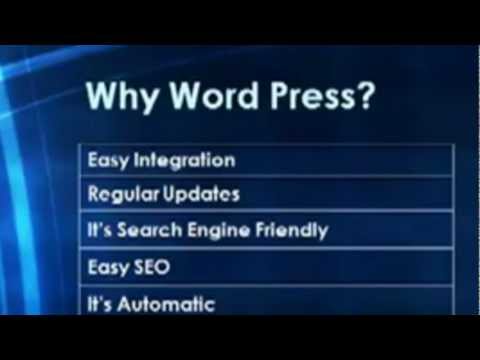 Benefits Of WordPress
Low Start-Up Costs
WordPress is FREE!
There are thousands of free (and premium) plugins and themes available to add functionality and transform the look instantaneously.
WordPress is so easy to use that most people learn how to do everything themselves, but, if you choose to hire someone else to do it for you, there are thousands of reasonably priced WordPress web design experts available for hire.
The only required expense initially is the purchase of a good web host service to run your web site.
Easy to Setup
WordPress hosting is becoming an industry in its own right. The huge demand for WordPress sites has hosting companies offering special products and services just for WP users. Most web hosts now make installing Word Press as quick and easy as possible by providing a self-installation wizard for their customers.
You merely log in to your cPanel, navigate to one of the self-installers, like Fantastico or Softaculous, and go through the installation process.
For those who don't want to install WordPress themselves, there are free services available to do it for them.
Easy To Use
WordPress is the most user-friendly of any of the content management systems available.
Once installed, Word Press requires minimal configuration, then it is ready for your first post.
No special web design knowledge, experience, or education is required to get up and running with your first WordPress blog or site.
Everything you need to know to use WordPress properly, is available right here on HTWP2.0, and we're always here to help if you need it. You can ask a question via the comments section below each post, or contact us directly, anytime. We'll be happy to help.
Extended Plugins
One of the most powerful things about WordPress is its ability to add features and functionality with the use of what's called a plugin. Much like the way Firefox and other modern browsers add functionality via addons and plugins, WP gives you the ability to do anything you can imagine with the installation of a plugin.
View our list of Recommended WordPress Plugins For Every Blog
Need to make sharing of your posts on Twitter, Facebook, and other social media sites easy for your visitors? There's a plugin for that!
Want to backup your site automatically? There's a plugin for that!
Want to add email lists, track visitor and other sites statistics, automatically make and submit XML sitemaps, RSS feeds, etc.? There are plugins to do all of that … and more!
Themes
Changing the look and feel of your entire site in an instant has never been easier.
WordPress comes with its own default theme, but if you want to add a whole new look to your site, there are thousands of free themes to choose from.
If none of the free themes suit your needs, then a premium theme might be in order. For $15 to $150 dollars you can select from thousands of ready-made premium themes that usually come with tech support and free, lifetime updates.
Still don't see what you want? Then hiring a professional WordPress web designer to create a custom theme for you is what you need. Sites like Odesk and Elance abound with qualified developers that can handle the job for you.
SEO
Proper Search Engine Optimization is crucial to success online and no other web site platform does it better than WordPress.
WordPress was designed to work well with the search engines. Its features and functions help search engines find your site, crawl it, and then locate the information they need to get your sites indexed and send you visitors.
However, with the addition of a few SEO plugins, WordPress can become an SEO powerhouse!
Spam Protection
Comment spam and spammy trackbacks and pingbacks are the bane of all website owners. Not only do they clutter up your site with useless junk that turns off your visitors, it wastes your time and resources to combat it. But WP gives you the tools you need to effectively combat the problem.
By default, WordPress comes with very good anti-spam capabilities. It comes with an integrated blacklist, an open proxy checker to manage and eliminate comment spam, and the Akismet Comment Spam Fighter plugin pre-installed.
For even greater anti-spam protection, there are numerous plugins available, both free and paid.
Web Standards Compliant
The WordPress developers work hard to ensure that WordPress complies with the W3C standards for web usability and compatibility.
This is extremely important to everyone using the internet. The W3C's primary goals are to develop industry standards to make sure that everyone has access to the world wide web regardless of the type of hardware, software, network infrastructure, or internet interface they are using.
What this means is that WordPress websites are designed to work with any browser, on any desktop computer, laptop, iPad, iPod, mobile phone, smart phone, personal digital assistant, interactive television system, etc.
Customer Support
As one would expect from a product that has over 60 million users worldwide, WordPress' support system is phenomenal. The web is full of free and paid professionals offering assistance with anything and everything WordPress related.
Starting right here at HTWP2.0 and at the official WordPress Support Forums.
Conclusion
Clearly, we here at HTWP2.0 are big fans of WordPress. We've been doing this internet thing for quite some time now and have looked at all of the various platforms available and WordPress really is the best one we've found, for all the reasons we've expressed above, and more.
Everyone here has built sites in HTML, CSS, and PHP, or some combination of the three, and without a doubt, WordPress is better and easier in every way.
Give WordPress a try on your website, you won't be sorry.
See who else is using WordPress
What Do You Think?
So, there you have it! We've given you all many of the reasons why we think you should use WordPress. Are you convinced? Did we miss anything? Do you still have questions, or something to add perhaps? Let us know in the comments below.
And, if you found this post helpful, please be sure to share the stuffin' out of it!
Share on Google+ Now!