What's New in WordPress 3.6 – Video
WordPress 3.6 "Oscar", named for Jazz great Oscar Peterson, has finally been released to the public. While most of the enhancements and bug fixes are minor, there are a few interesting improvements in this version for both end users and developers.
New Features Include:
Improved autosave, with both local and remote saves
Completely redesigned revision browser
Improved post locking
Built-in HTML5 audio/video player
Improved integration with Rdio, Spotify, and SoundCloud
Updated Menu Editor
New Twenty Thirteen default theme
The following video hits the highlights. For a complete list of all the new features, see the official WordPress Changelog.
Highlights of What's New in WordPress 3.6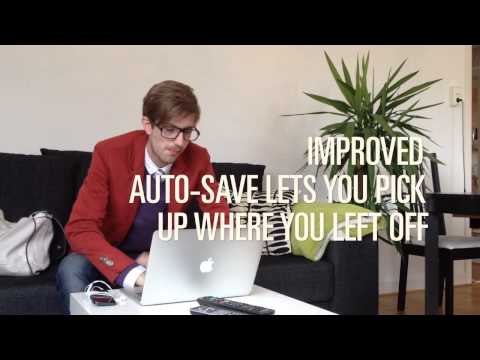 New in WordPress 3.6 For Users
Improved Post Autosaving
One of the top priorities of the developers for this latest version was the necessity of WordPress to be able to save current editing of posts regardless of circumstances. The directive was that:
. . . users should never lose posts due to expired cookies, loss of connection, inadvertent navigation (even if AYS'd), plugin or core errors on save, browser crashes, OS crashes, cats walking on keyboards, children drooling in keyboards, etc.
The point was, that users should be able to implicitly trust WordPress with their content.
Well, it looks like they've succeeded. With version 3.6, posts are now saved locally, as well as on your server, from the very first word you type, to the last.
Compare Post Revisions
New in WP 3.6 is the ability to compare all of a post's revisions and quickly find any changes between them.
In 3.6, changes between revisions are highlighted in different colors, making it easy to see what edits have been made.
A slider bar makes it easy to move from one revision to another and see all changes that have been made over the entire timeline of edits. You can also check a box to easily compare any two revisions, side-by-side.
Additionally, the revision UI displays the reviser's avatar next to their edits.
Improved Post Locking
Multi-author sites will appreciate the new post locking improvements. Each author now has his, or her, own auto save stream. The editing interface allows another person to take over editing of an open post, when necessary. And, live updates appear in the list of posts, so you always know who is editing a post.
New Twenty Thirteen Theme
The new default theme in WordPress 3.6 is a fully mobile responsive, single-column design that automatically resizes your content to fit any size screen. Its bold, high-contrast colors and distinct typography make for an eye-catching, yet highly readable, design.
While Twenty Thirteen was designed as a single column layout, developers have allowed for the use of widgets in the footer and sidebar areas. As with previous official WordPress themes, the menu, background, and header images are fully customizable.
Improved Support For Audios and Videos
Version 3.6 comes with a new built-in HTML5 media player. It allows you to upload audio and video files via the media manager, then easily embed them into your posts.
You can also embed external slideshows, videos, songs, albums, or playlists from sites like YouTube, DailyMotion, SlideShare, Spotify, Rdio, SoundCloud, or any of these other sites, with a simple cut and paste of a URL into a post.
New Menu User Interface
The Menu Editor has been redesigned to be much easier to understand and use. It now uses an accordion-style UI and two tabs for creating navigation menus. One to edit menus and another for managing menu locations.
New In WordPress 3.6 For Developers
New Audio/Video API that provides access to metadata, like ID3 tags.
Semantic Markup – Allows themes to use HTML5 markup for comment forms, search forms, and comment lists.
Better Filters for Revisions – You can now store varying amounts of history data based on post types.
External Libraries like, jQuery, Services_JSON, MediaElement.js, and others have been updated or added.
Search Content for Shortcodes with has_shortcode() and adjust shortcode attributes with a new filter.
Additional Resources:
Summary
WordPress 3.6 is a major release with many new feature additions and improvements, bug fixes, and other updates, just a few of which have been detailed above.
While there aren't as many changes as in previous versions, we always recommend that users upgrade as soon as possible whenever a major release becomes available.
Remember ~ To ALWAYS backup your site and test ALL of your themes, plugins, and scripts for any compatibility issues BEFORE upgrading.
What Do You Think?
What feature(s) were you most looking forward to in this latest release? Were you disappointed in any way? Let us know in the comments below. And, if you found this post helpful, please share it!
Share on Google+ Now!